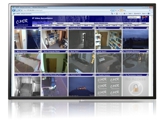 Video Surveillance Software for Windows, Mac OS X, Linux and virtualization servers.
The C-MOR Video Surveillance software runs on many platforms. Basically it is an independent server software which runs inside a virtulization system which are available for many operating system. C-MOR offers different images for the installation. These are pre-configured images for the virtualization systems VMware, VirtualBox, Hyper-V, KVM and a manual installation image which can be installed on all platforms. All images are free and support one IP camera. By purchasing a license key up to 15 cameras can be released with one C-MOR software server.
That is the video surveillance you'll get here:

• Full functional video surveillance software to install as a Virtual Machine
• Video preview with mouse-over-function, video download, direct video play, single and combinated scenes
• Motion detection, e-mail alarm, time tables for motion detection and general video surveillance
• Simple and easy to understand web interface in English with online descriptions
• Support for Windows, Mac, Linux and other OS'
• iPad, iPhone, Android and mobile devices support
• Support for many well known camera models like Axis, LevelOne, Panasonic, Sony and many more
• Access over Internet, from everywhere without software installation on the PC or notebook
• And many, many more.
Don't wait, get it now or compare the software versions:

Please review the C-MOR web inteface: