Version 5.23 with many Improvements and Fixes
Hechingen / Stuttgart Germany, March 26th, 2021
(This page has been online translated)
za-internet GmbH publishes many new functions and improvements with version 5.23 of the video surveillance system C-MOR. C-MOR is administered via the web. The newly introduced "Video Center" page links to all important camera live streams and recordings. For each camera there is still an overview page with a live stream, the current recordings and streams from the other cameras in small dimensions. As technology has improved, these streams from the other cameras have been increased by 50%. The retrievable recordings are also listed in a new order. The mobile pages have new forward and back navigation buttons to switch between the cameras with one tap. The all-round update to version 5.23 is available to all customers with a subscription. The free version can still be installed and used free of charge.
With this update, za-internet GmbH ties in with update 5.22 with new features. With version 5.22 a download manager was introduced as a new feature in order to be able to download large recordings more comfortably. Now the video surveillance system C-MOR has two new menu items, the "Live cameras" page and the video center, as well as a significant improvement in the use of smartphones.
The video center provides the user with a new overview of all important camera web elements such as live views in all available video modes and with one click they can access the recordings of the current day.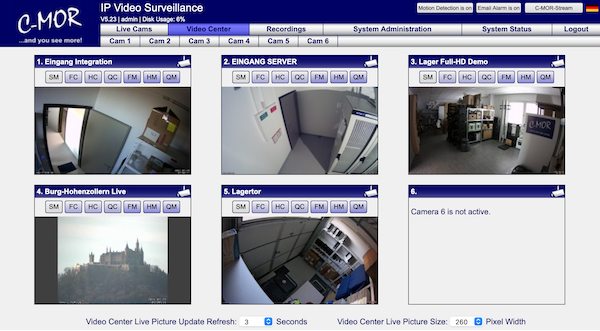 In the camera pages, the live streams of the cameras that were not selected have been enlarged from 160 to 240 pixels and thus by 50%. This means that it can be recognized more quickly if something is happening in front of other cameras, even if the focus is on another camera. In addition, the new stream sizes also required a new arrangement of the cameras. The table with the recordings at the bottom of this page has also been expanded to include a column for C-MORs with eight or more cameras. The representation is thus more compact.
With V5.23, C-MOR also receives a new configuration feature. It is now possible to individually set how areas in which movement has been detected can be marked. What is new is the marking by means of a red frame around the movement area. But a gray or red central cross can now also be configured.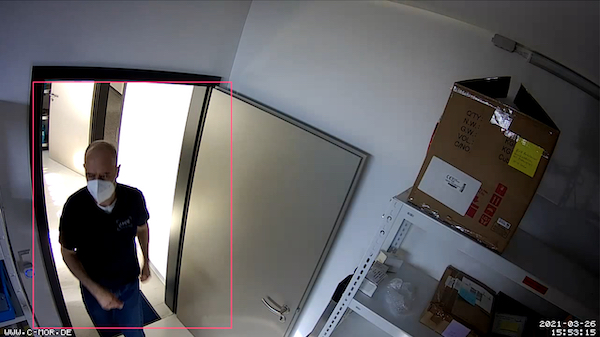 The new function forwards and backwards to the next or previous camera has been implemented in the camera pages for iPhones and Android smartphones. For this purpose, forward and back buttons have been introduced in the camera pages. In the same way, you can now tap on the left and right side of the live image to navigate to the previous or next camera.
All new functions are listed in the change log:
C-MOR Video Surveillance Change Log Protocol V5.23
Do not wait and test the new features of C-MOR here:
C-MOR Live Demo with the new video center