C-MOR Announces VM Version of IP Video Surveillance NVR System - C-MOR VM

Improves server and PC utilization; eliminates need for additional hardware
Stuttgart, Germany - C-MOR by za-internet GmbH, industry-leading manufacturer of enterprise IP video surveillance network video recorder (NVR) solutions, announces the availability of C-MOR VM, a video surveillance NVR system that runs on a virtual machine (VM) guest operating system (OS), utilizing existing computer hardware. By installing free VM downloads from VMware, Hyper-V, VirtualBox, and Xen, C-MOR Video Surveillance NVR software can operate on any host operating system, including Windows, Linux, and OS X. With the C-MOR VM Video Surveillance System, users can remotely record and view live recordings via web-enabled devices.
With the new VM capability of the C-MOR Video Surveillance NVR software, C-MOR VM is an ISO image which installs automatically within a VM guest environment on an existing server or PC. Once the simple install process is completed, users immediately have a fully-functional NVR that can support 3, 6, 9, or 15 IP surveillance cameras from all major camera manufacturers.
By utilizing virtual machines, multiple OS environments can co-exist on the same computer or server, in isolation from each other. This maximizes server and PC resources, reduces space and power, and lowers costs.
Michael Reuschling, Co-Founder of za-internet GmbH, explains, "The C-MOR VM Video Surveillance System has the same features and functions as those of the C-MOR Video Surveillance Systems comprising both integrated hardware and software. With the VM version, we are offering our customers a software-only version that enables the video surveillance NVR function to be integrated into existing hardware."
The German-engineered C-MOR IP video surveillance system enables users to remotely record and view live video recordings via Web-enabled devices, such as PCs, smartphones, Macs, and tablets. The system supports up to 90 IP cameras from a wide range of manufacturers, and can be accessed from any of the popular Internet browsers running on common operating systems. It offers high-definition IP video recording streams with the option to replay footage in various resolutions.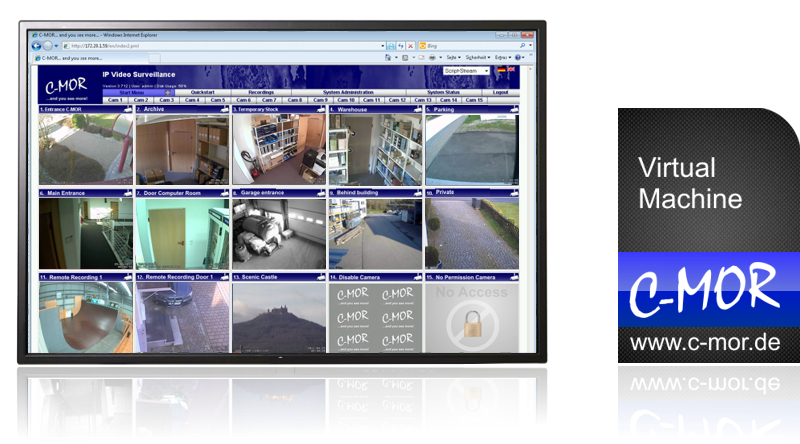 About C-MOR
The web-based video surveillance solution C-MOR (http://www.c-mor.com) has been making its mark on the international market since 2003. The intuitive and simple user interface has met with a large degree of acceptance among users. This innovative product is distinguished by excellent performance, reliability and stability. Standard features include Internet queries from anywhere on earth, alarm functions, movement recognition, hard drive storage management etc. C-MOR is an extremely reliable, high-quality product; and engineers here in Germany are working to provide ongoing development and improvement so that C-MOR can continue to meet growing user needs.