Virtual Video Surveillance Server for VMware, Hyper-V, KVM, VirtualBox & Co.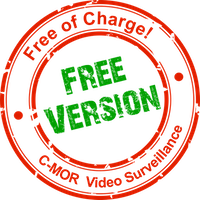 C-MOR is a virtual video surveillance server. It can be installed on a Windows, Mac or Linux computer under all standard virtualization platforms such as VMware, Hyper-V, KVM or Virtualbox and operated permanently. One or more C-MOR virtual machines are installed on one or more virtualization servers: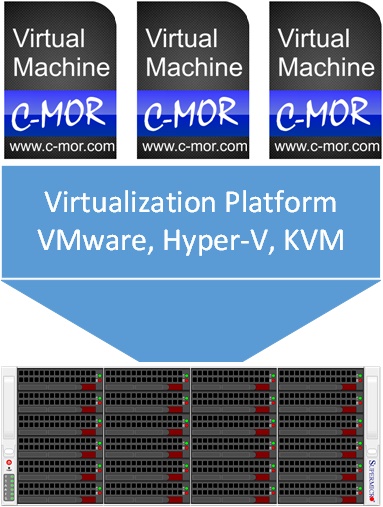 C-MOR is easily scalable thanks to Virtualization Technology
All the benefits of virtualization can be harnessed with C-MOR. These include:
Free allocation of CPU cores as needed
Increase the disk space
Increase the RAM memory
Easy use of VLANs (virtual LANs) to separate network traffic from video surveillance
Extension of licenses or addition of camera licenses
Construction of infrastructures up to 90 cameras with several C-MOR VMs
Installation in existing virtualization environments, so no purchase of hardware
Relocation of the C-MOR Virtual Machine to other physical virtualization servers, also for load balancing
Install C-MOR on your existing IT Infrastructure, VMware, Hyper-V, or KVM virtualization platform. So C-MOR does not have to buy a new server. In larger platform C-MOR is simply installed. For this purpose, pre-configured images for VMware or Hyper-V can be rolled out or C-MOR can be installed via an ISO image. The installation of the video surveillance C-MOR is done in no time.
C-MOR supports the virtualization interface management tools. For example, C-MOR can be managed through the VMware tools in the VMware vCenter for booting or automatically shutting down and restarting within a vCenter maintenance window. Administrative Tools support also works in Hyper-V and KVM or VirtualBox.
Smaller virtualization environments are also supported
C-MOR is not only installed on large IT infrastructure environments such as VMware, Hyper-V or KVM clusters. C-MOR can also be easily installed on individual PCs or Macs. C-MOR can be installed on a Windows 10 PC under Hyper-V or on a Mac with VirtualBox. Similarly, a Linux PC can be used to C-MOR installed under VirtualBox or KVM and operated. With pre-built installation images, the installation in VirtualBox on a PC or Mac succeeds in just a few minutes. Simply double-clicking on a freely downloadable OVA file will conveniently, easily and quickly install in VirtualBox! All software packages are available for download as ZIP archives.
Try C-MOR now!
Try C-MOR online now! With just one click you are on the C-MOR demo. Try the intuitive web interface of C-MOR right now. C-MOR is optimized for the Firefox browser, but can also be used with other browsers. The included browser, Safari on iPhone and Chrome on Android, are also used on mobile devices.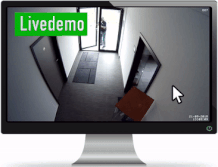 C-MOR customers enjoy the many benefits of virtualization. C-MOR is scalable. CPU power, hard disk space and RAM can be allocated as needed. C-MOR can be moved to another hardware server or even operated in a redundant cluster. C-MOR can also be easily secured via Veeam. And: You can expand cameras as needed and start your video project small. Even a simple test environment can be extensively tested for free durably with a camera or with multiple cameras for a limited period of time before you hand in C-MOR! Do not buy the cat in a poke, test without obligation! The free C-MOR version can be operated with a camera. Licensed versions can flexibly serve three to fifteen cameras or run up to 90 video surveillance cameras in a stack.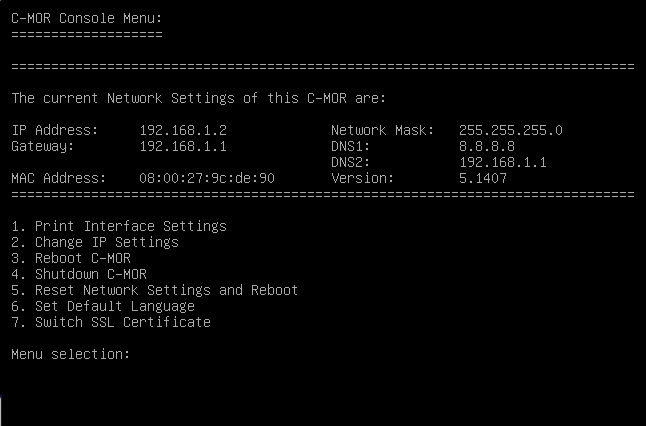 The C-MOR VGA Console, e. g. viewed in a vSphere Client
The C-MOR video surveillance system is completely web-controlled. In addition to an extensive desktop and tablet website, mobile devices such as iPhones or Android phones can use clear mobile pages. The alarm, e-mails with alarm videos, alternatively with SMS alarm, is one of the standard features of a video surveillance, including C-MOR. Here, the developers attach great importance to the fact that the videos can be played without installation of additional software on common devices such as Windows, Mac, Linux, iPhone, Android.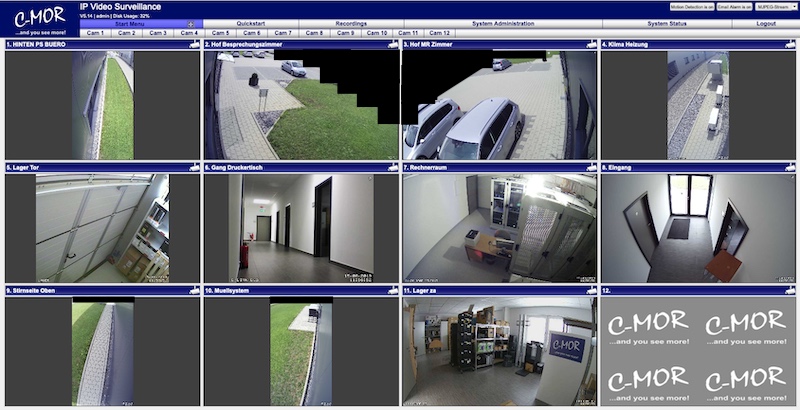 The Start Page of C-MOR Video Surveillance Virtualization with 12 Cams
C-MOR has many features
C-MOR takes pictures based on motion detection in the picture. Many parameters can be set in the web interface which trigger an alarm depending on the setting. Through image masks motion detection can be optimized. Thresholds, which are also set via the web interface, ultimately trigger video recordings and the associated alarm emails. In addition, external motion detectors can be integrated, so that video alarms are not triggered due to pixel changes in the video image, but for example by light barriers or ultrasound motion detectors, which are integrated into some camera models. Alarms can also be configured via time tables. So you only get video alarms if it is relevant for you! It is also possible to freely define holidays or holidays in order to provide them with their own time profile for video recordings and video alarms. In addition to e-mail alerting with video attachment, SMS alerts can be sent to a cell phone at the same time so that you are alerted when a movement is detected and an alert is triggered.
In the C-MOR, you can grant per user rights to cameras, recordings and setting options. This makes it possible, for example, that a user who only receives a slower representation of the livestream via mobile dial-in can still make meaningful access to C-MOR without stopping the videos. C-MOR offers the livestreams in a technology that works in web browsers on computers as well as on iPhones as well as Android smartphones.
Depending on the application, C-MOR can incorporate MJPEG streams with high quality but high bandwidth or MPEG4 videos with less bandwidth and poorer quality. The user himself decides which stream technology to use, depending on his requirements and the camera model.
C-MOR works with almost every IP camera
In the C-MOR, a camera database is managed via the well-known camera models can be selected and integrated. The database is constantly being expanded. In addition, C-MOR users have the option of integrating freely definable cameras. There are no barriers to integrating cameras if you use common standards.
An important feature when using C-MOR is the connection of alarm systems. C-MOR can be linked to alarm systems. In this case, an alarm system C-MOR cause to create a recording that is sent by alarm. Thus, the user has a quick insight into the happenings and can quickly see if it is an important or unimportant alarm.
In addition to alarm functions, C-MOR can also create time-lapse recordings over longer periods of time. In this area, C-MOR is often used for building documentation of larger buildings. Very nice time-lapse recordings can be created almost by itself. Weather shots deliver great effects.
C-MOR is constantly being developed in Germany
The standards and features on the internet and in video surveillance are constantly changing. C-MOR is therefore constantly being developed in Germany. New web browser features are thus introduced to the software of C-MOR.
A great feature of business virtualization is the redundancy of VMs running in clusters. C-MOR video surveillance can be operated redundantly. Load balancing or fail-safety will thus be introduced to video surveillance technology.
What are you waiting for? Try now without obligation! Your test installation can be unlocked for multiple cameras at any time. Do not wait, click here now: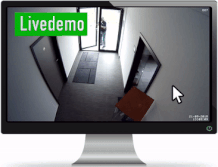 C-MOR is available in many model sizes
C-MOR is flexibly configurable with regard to the number of connected cameras. The C-MOR models are categorized according to the number of camera licenses. C-MOR offers solutions between 1 and 90 cameras. Here, the basic version is free with a free camera and free for anyone to download and install. The basic models range from 3, 6, 9, 12 and 15 camera models. These can be combined into a 90 camera solution via the Stacking Module up to a maximum of 6 C-MORs. Camera licenses can be flexibly installed at any time. Single camera licenses can be added, but because of the interface sch recommends licensing licenses in blocks of three. The Stacking module connects both physical and virtual C-MOR video surveillance servers. Actually, the stacking module is meant to stack C-MOR15 models, but due to load distributions it can be useful and effective to stack smaller models. The distribution of live views of all cameras on multiple monitors can also play a role here. Examples include a 24-camera solution with two C-MOR12VMs or a 36-camera solution with four C-MOR9VMs, each with the extension through the stacking module.
C-MOR VM installation via Teamviewer - Camera support included
za-internet GmbH often installs C-MOR for customers via Teamviewer. Although the installation is simple and well documented, many companies rely on service and can be installed via TeamViewer C-MOR. If cameras have not yet been procured, customers can be advised by phone when selecting the cameras. Supported by planning software for video surveillance cameras, the optimal camera locations can be planned on the basis of location plans, and suitable camera models can be recommended and offered regardless of the manufacturer. In addition to a basic installation of the C-MOR virtual machine, the C-MOR software can be configured for your needs. Za-internet GmbH thus provides you with a holistic complete solution consisting of cameras and video surveillance software or servers and necessary components for connecting the cameras, such as suitable PoE switches and other network components.
Similarly, C-MOR is explained or trained via Teamviewer, Skype or Webex customers and prospects in online sessions. In an approximately 30-minute online meeting, the important and important point of the C-MOR interface will be discussed.
Surely you already have your questions for us in mind? Please use the contact form now and send us your request regarding a C-MOR installation on a PC or virtualization platform: