C-MOR releases New Video Surveillance Feature
Nothing is more important than finding video scenes quickly, easily and efficiently. To meet this need, the C-MOR programmers have developed the new motion snapshot overview for video recordings. Within seconds, C-MOR users can find anything that has happened in front of the camera. Customers with a software subscription can get this update free online.
Stuttgart/Hechingen (Germany). C-MOR's Web interface for video surveillance [see more] is continuously being developed. The latest development is the motion snapshot overview, a preview of video recordings from one or more cameras in the form of freeze frames that allow one to immediately see what happened in each respective scene. Alongside the well-known thumbnail video preview, freeze frames of the recording are now integrated. C-MOR users can see at a glance which scene might be the one they.re looking for, and they can also easily get an overview of the overall recording. The quick overview with moving images is, of course, still included - as is the merging function that allows multiple films to be merged with a mouse click.
The new motion snapshot overview can be applied to individual cameras or to all cameras at once. With one click, individual cameras are displayed with the 20 most recent recordings. On a dropdown menu, users can select a parallel display of videos from all cameras that were active during a particular time period.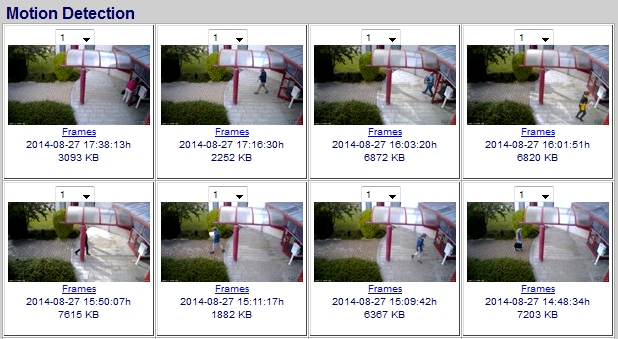 The New Motion Snapshot Preview "Even with slower UMTS Internet connections, the new function is very effective," says to Michael Reuschling, managing director of the manufacturer za-internet GmbH. "During the development process, we made sure that the motion snapshot preview didn't swallow up large data volumes so that it can be used even with slow connections", he continues. C-MOR offers its own remote access protocol for usage of video surveillance with mobile Internet connections, so that UMTS and LTE Internet connections can be used as well.
The interface has also been adapted for mobile end devices. iPhone and Android users can access the new functions on the mobile sites as well. This interface for mobile devices is very convenient, allowing users to play preview videos with a single tap.
Comprehensive information about the updated version 4.11 of C-MOR video surveillance can be found at http://www.c-mor.com. C-MOR can also be reached by telephone at +49 7471 93 01 99 20 to get more information about the improvements. In addition, a fully functional free version can be downloaded at http://www.c-mor.com.
Press Contact
Jasmin Blockhaus
Tel. +49 7471 93 01 99 20
Email: This email address is being protected from spambots. You need JavaScript enabled to view it.
za-internet GmbH
Linsenaecker 13
72379 Hechingen / Germany
http://www.c-mor.com
About C-MOR
The web-based video surveillance solution C-MOR (http://www.c-mor.com) has been making its mark on the international market since 2003. The intuitive and simple user interface has met with a large degree of acceptance among users. This innovative product is distinguished by excellent performance, reliability and stability. Standard features include Internet queries from anywhere on earth, alarm functions, movement recognition, hard drive storage management etc. C-MOR is an extremely reliable, high-quality product; and engineers here in Germany are working to provide ongoing development and improvement so that C-MOR can continue to meet growing user needs.